THIS PROGRAM IS INTENDED FOR MATURE AUDIENCES. VIEWER DISCRETION IS ADVISED.
We made it! Holy crappoli, was this a crazy flip through the scrapbook. Or, like, twenty scrapbooks. Yes, it's Day 34 of our 34 Days, and in covering everything we've covered, as much as we've mentioned A.S.S. (Another Showcase Showdown), we haven't really given the show its due. So let's take a moment to place this project – which made a plethora of Drama 3/4 productions possible – on the proper pedestal. And let's stop using the letter P so much.
The first whiff of A.S.S. began in the year 2000, when Alex Fox was working at the Stella Adler Theatre. He had secured one of their stages at no cost, for one night, to do an actor's showcase of sorts, except that his version would not be pay-to-play. (If you're unfamiliar with the industry, yeah, struggling actors have to pay hundreds of dollars to get scouted by talent agents. It's kind of a horrible racket.) Fox called this evening of solo performance The Showcase Showdown and invited a select group of friends, mainly USC Theatre alumni, to come perform whatever they wanted. Most of them dusted off go-to monologues from their audition files. Some soloed on the cello or lip-synced a recording from a favorite humorist. But almost without exception, they all performed someone else's published work. Then there was David Fickas.
At the urging of Ric Barbera, Fickas chose to recreate a little comedy bit that he occasionally trotted out after a drink or three. The scene involved a fuzzy, sloth-like puppet and some suggestive… see, what he would do is, he'd attempt to romantically satisfy… He fucked the puppet. That's really the only way to put it. And despite what you're probably thinking, the bit was extremely funny and went over very well with the audience.
Around the time that Fox's Showcase Showdown came along, Fickas had been thinking about how he and his friends could get back onstage, now that USC wasn't financially obligated to give them roles. This showcase that Alex Fox started on a lark had potential to become a regular thing. So Fickas called Fox the very next day, and before too long, they were setting aside their differences (that's a whole other blog) to put on Another Showcase Showdown. And then Another, and Another.
Gradually, the show became exclusively comedy… then it became larger scenes of more than just one or two people… then it became exclusively original content written by the cast. In the blink of an eye, a bunch of theatre actors, most of whom had no improv or sketch background to speak of, had evolved into a sketch group. Fickas and Fox started integrating live bands and short films, billing Another Showcase Showdown as a variety show. They stuck with the title because of its convenient (and HILARIOUS) acronym, "ASS," though most everyone involved simply referred to it as "the Showcase." Whatever you called it, A.S.S. rapidly grew into its own LA comedy scene, separate from the improv schools and the standup circuit. It also became an invaluable testing ground for the core group of budding writers who were now submitting material monthly, including Ric Barbera, Brice Beckham, Zach Selwyn and the duo of Megahn Perry & Liam Sullivan.
Over the past few weeks, we've touched on a number of films that got their start on the A.S.S. stage. The Bulbar Method was first conceived as a Fickas monologue. Keller & Sullivan, which we'll be revisiting tonight, solved more than one mystery before getting the black & white treatment. Deliverance, the Musical had two different live incarnations before we ventured into the actual wilderness. And the entire J.A.P.S universe, of which we've highlighted only a small part, had its big bang in front of a Showcase crowd. When we include D34's later, stripped-down sketch show, Cue to Cue, we can add Dramatic Spam and Acting Out to the list of films that were performed live first.
As for the stuff you haven't seen during these 34 Days… well, I guess you could say we saved the best for last. First is The Date Game, a horror short that will make you pee with laughter and fright at the same time. The screen version is considerably darker than the already-dark humor of the three "Patrice & Tran" sketches that preceded it onstage, for the simple reason that Fickas was in consideration to direct a horror film at the time, and he didn't have any horror samples to boost his cred. Brace yourselves, Pam Cook fans, because this one shows a side of her you would never, ever expect.
Last, but certainly not least, is our faux-thriller classic, the undisputed king of our library, Buttfucker. What started as a three-part sketch in a 2008 Showcase was later immortalized on video, becoming arguably our most successful short film. Among many other triumphant screenings, it played at the American Cinematheque (like Basement before it), after which director Fickas sat on a Q&A panel with both the writer of Die Hard, and 007 himself, Timothy Dalton. Dalton was somewhat obsessed with Buttfucker and couldn't stop talking about it, which just goes to show… some amazing things have come out of our A.S.S.es.
The Showcase created a comedy legacy that never stops giving. To this day, we're still yearning to shoot sketches from those original live shows. We recently brought Noir Crossed Lovers, written by Alex Fox and based on James Mathis III's "Gumshoe" character, to the Club BYOSS (Bring Your Own Short Script) staged reading night, and the overwhelming response reminded us yet again of what gold there is to be found in the A.S.S. treasure chest.
For watching our livestream tonight, for visiting us throughout these 34 Days, for your years of life-giving laughter and continued support, we would like to say, from the bottom of our hearts… "Thank you for selecting a fresh product."
Join co-creators David Fickas and Alex Fox along with producer Brice Beckham, TONIGHT at 7PM Pacific, as we screen some of these classics LIVE! Watch in the embedded player right here, or head over to YouTube to chat with us during the show. This is the end! Let's party!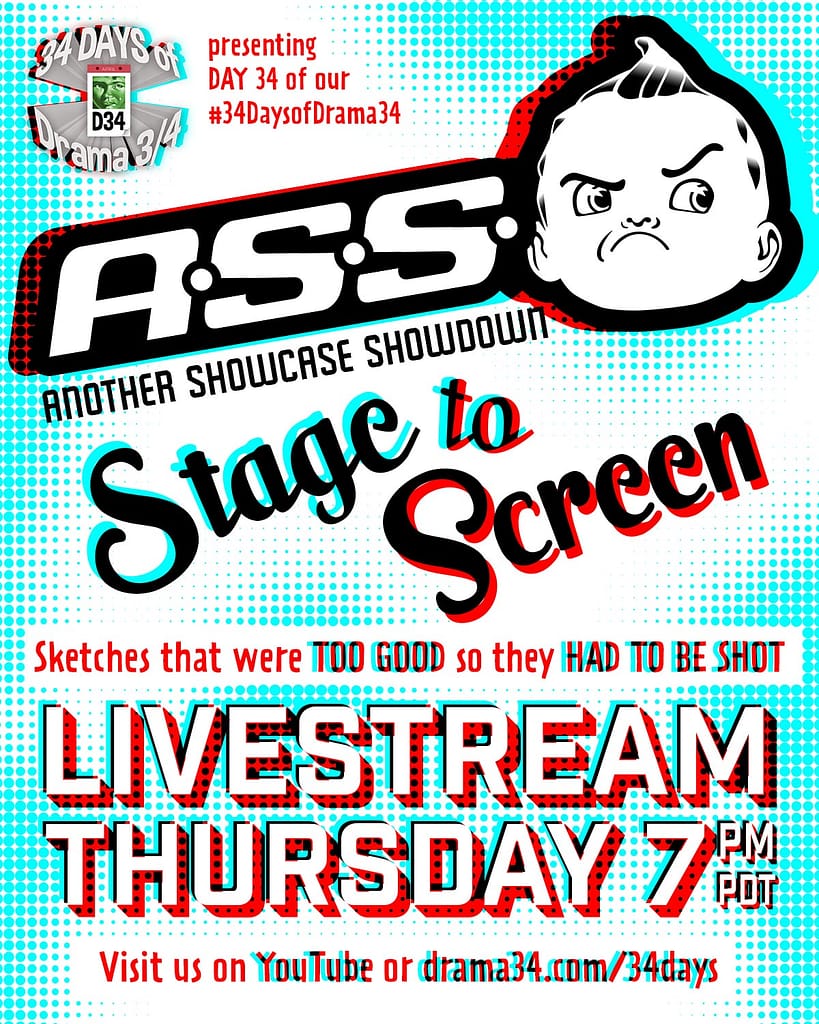 ---