As we near the end of our 34-day asset appraisal, we turn our attention to the future, and try to imagine what our industry will look like when the non-essential workers (us) get back to their non-essential work. It's not an easy thing to predict. The paradigm is already shifting, and this campaign has even been part of that… Our online premieres of Marisa Coughlan's Fulfillment and Leonora Pitts's Like Holy Wine have attracted curiosity as a new path for short films in the absence of a traditional festival scene. (Speaking of which, both of those shorts won't be available for long once our 34 Days are officially over, so if you've been meaning to watch them, you'd better hop to it!)
In a nutshell, the future is uncertain. Shocker, right? But while we may not know exactly how or when we'll be moving forward, we do have a tall stack of projects on our proverbial plate that we can't wait to bring to you as soon as possible…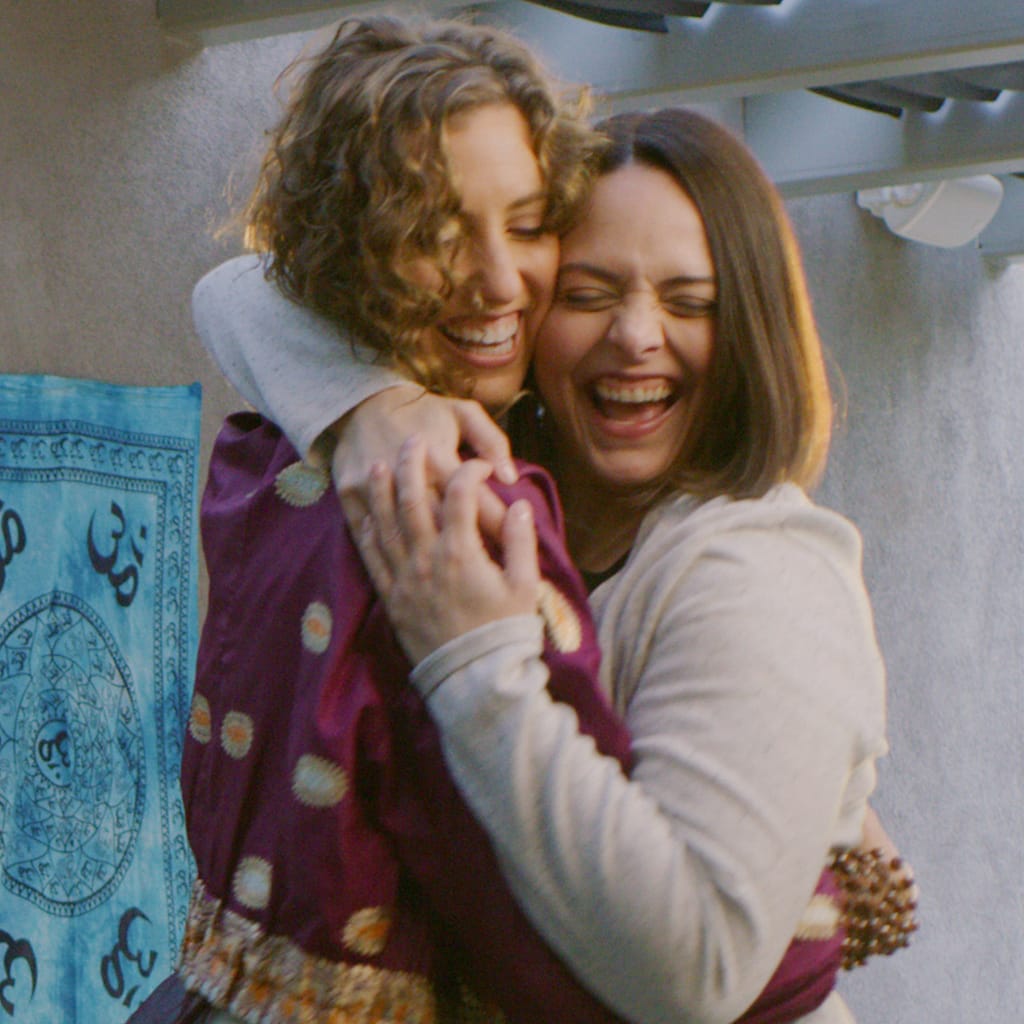 Let's start with one that's already in the can: the six-part digital series Down the Middle, created by Michelle Barton & Heather Dowling. It's about two women of completely opposite dispositions who are hurled, kicking and screaming, into a joint business venture. A successful crowdfunding campaign on Seed&Spark last year made it possible to wrap production shortly before lockdown, with an awesome cast including Heather and Michelle, Devin Kelley, James Lesure and Daniel Montgomery, not to mention appearances by Brice Beckham, Pam Cook, Christine Lakin and Leonora Pitts. But the icing on the ice cream cake (inside joke, sorry) is that we also have America's Funniest Home Videos and Dancing with the Stars host Tom Bergeron playing our multimillionaire patriarch, "Rex Gregory." We're neck-deep in post production now and hope to have the show available soon, although we wouldn't mind waiting for a real theatre screening to give it a proper debut. In the meantime, keep an eye on Down the Middle's socials – Twitter, Instagram and of course Seed&Spark – for updates!
Next up is another successful Seed&Spark crowdfunding project that has also wrapped production and is also currently in post. Twinsies! 👯‍♀️ Spell It Out in Neon, from writer/star Samantha Lester and director Tammy Minoff, tells a story inspired by Samantha's wonderful street art, about a woman coming to terms with the idea that her best friend (played by Daniel David Stewart) may not be the Prince Charming she hoped he would become. Check out the Seed&Spark page and learn more about Samantha's art for a taste of what's in store when this finally hits the street!
Continuing with post production, D34 had the pleasure of editing Erin O'Shea's short film, Meet Cute, directed by Jason C. Brown. This is Jason's third short, and we were honored to be brought onboard again after our previous post work on Panic Button. Stay tuned for more on this co-production between Erin's company Serious Child and Natalie & Tara's Sneaky Pineapple.
…Which segues perfectly into projects that got caught in the pre-production phase. Right before we all went indoors and never came out again, Drama 3/4 was working with the ladies of Sneaky Pineapple (Natalie Lynch and Tara Jayn of Natalie & Tara Try Stuff) on recording a parody song for a comedy video. Shoot dates were even set before God laughed at our plans. We don't want to give anything away, but we're sure Natalie & Tara fans will enjoy the music video when we finally get back to it later this year.
From the "So Close We Could Almost Touch It in Violation of Social Distancing Guidelines" Department, Drama 3/4 was mere DAYS away from starting production on a little pilot we call Batshit, starring Marisa Coughlan, before one of our co-producers briefly came down with the coronavirus and flying Marisa out to Los Angeles suddenly seemed like a very bad idea. As you can probably glean from the title, this one truly is Batshit crazy, taking us back to our stupid parody roots in a way that even surpasses the absurdism of I Hate My 30's. It's a project that's been a long time coming for Drama 3/4, and we're literally guano-ing our pants with excitement to get it onscreen.
And that's not all by a damn sight! 2020 has even more in store for D34 (rhyming). We're talking more full-length HousePlace episodes, which are currently being written by Kirk Zipfel, between substandard home-school lessons. We're talking a short film collaboration that Brice and David are drafting with Esma Kirim. We're talking next-level ambition with Fortune Rookie's Kara Morgan to bring more of the Bigs & Tinies universe to life. We're talking continued crowdfunding campaigns to get more A.S.S. sketches on your YouTubes (more on that tomorrow). We're even talking 20th Anniversary talks for A.S.S. 20 in 2020 (also more on that also tomorrow). And we're talking top, TOP, top secret development that we probably shouldn't even mention, so forget you ever saw this sentence, please.
It's true, we keep a lot of balls in the air. But whaddaya gonna do, drop a ball? Drop all the balls?!? Then they put you in juggler jail, and that the worst jail you can be in. Really, picture it.
Only one day left until this particular "34 Days" ball EXPLODES in midair, hatching a beautiful eagle that soars away into the eternal sunset of history. So, it turns out the ball was actually an egg all along. Maybe all the balls are eggs? …Yes, all the balls are eggs. And someday soon, all our balls will be broken so that you may partake of the chirping, flapping vision-birds inside. Is this making any sense? We might need a nap.
---