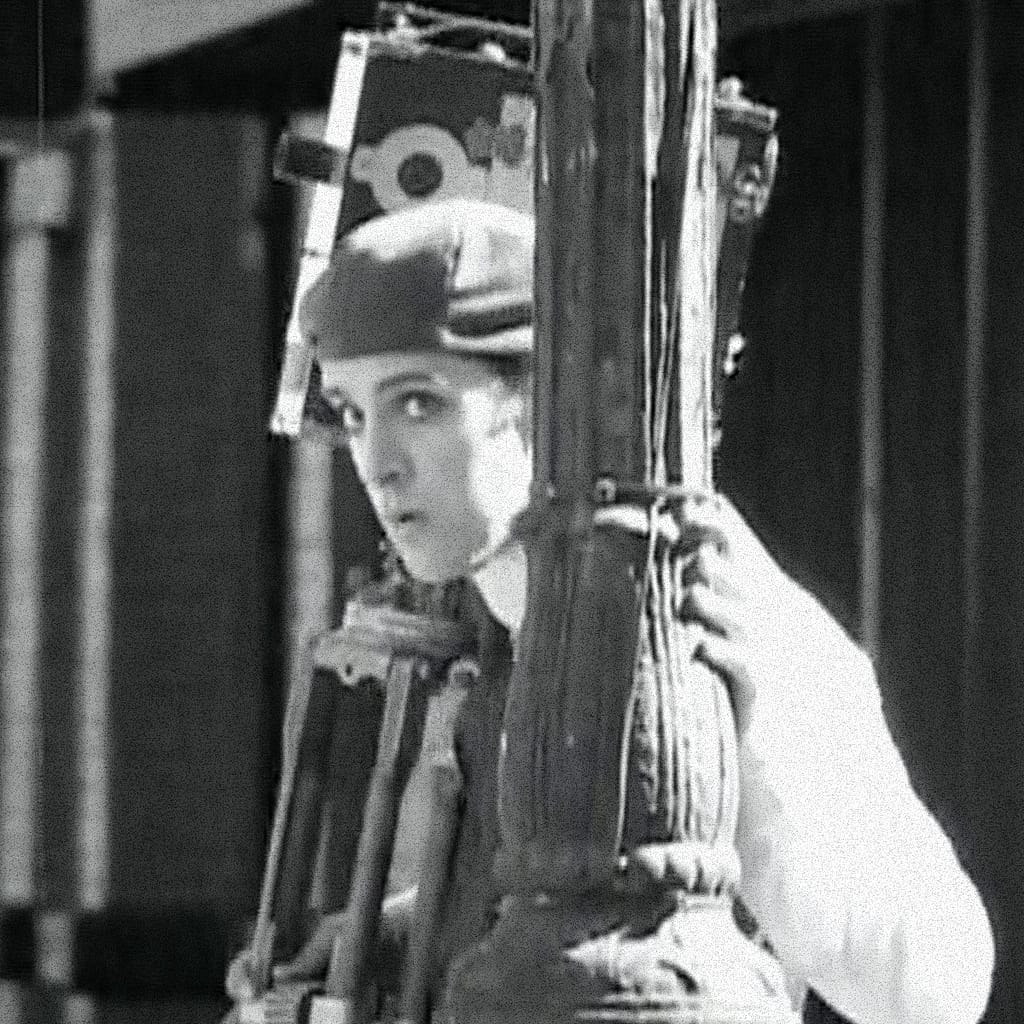 Chaplin said this some years after the 1918 Spanish Flu pandemic, when the silent film industry was booming. Maybe all of us entertainers should think of this as a light at the end of the projection booth.
Fast forward over ¾ of a century (that's three-quarters, not three-four) to the year 2000 when Drama 3/4 (that's three-four, not three-quarters… it's a common mistake) had received some attention for Anakin Auditions. The sketch show A.S.S. (Another Showcase Showdown) had just been born. And filmmaker Eduardo Cisneros (co-director & gardener of T2: The Good Version; DP & producer of The Basement and the Kitchen) was working in a film lab, cleaning digital print transfers, pixel by pixel. It was during this painstaking work that Ed thought, "If we have the technology to clean up digital footage… why couldn't we unclean it?"
Now, Ed was a cinema history buff, and he and David Fickas were always talking about their silent heroes, particularly Chaplin and Harold Lloyd. So Ed brought up this idea of using modern tech to make something new old again, and the two friends set out to shoot a movie that paid tribute to a bygone era. They concocted* a story, gathered up the Showcase players, grabbed a few mini-DV tapes, racked some incredible wardrobe thanks to Molly Grundman, and weaseled their way onto the 20th Century Fox lot.
They used their one-day pass to the fullest, running around to any set that still looked like the '20s, shooting as quickly and frantically as they could, just like the greats did back then. Ed yelled out direction to Fickas, Megahn Perry, Luiggi Debiasse and Michael Cornacchia like he was Mack Sennet egging on Chaplin. Everyone brought their A-game and exhausted every favor they had, including pestering Jeremy Sisto to use his roof for its view of the Hollywood sign.
After production was complete, the movie went into editing and FX. And here is where this starts to get really interesting.
Around this same time, while all-around-extraordinary-talent Kenn Michael was editing Silent Story, he had also been hired to direct some other videos… videos designed to go on giant screens… giant screens at the giant concerts of a little band called *NSYNC.
We'll give you a second to take that in.
You good? Good. Anyway, while Kenn was in the trenches on these display videos, Justin Timberlake was over at his place – roll with it, keep it together – and Kenn showed him the latest cut of Silent Story. JT was so impressed with the concept, THEY MADE A SILENT MOVIE OF THEIR OWN FOR THE TOUR. Part of that movie, in turn, was used to bookend this music video. Compare it with our Silent Story and you can see the influences at work. The extended version contained even more similarities.
With all that clout, the Silent Story team thought it might be possible to win an Oscar. But at that time, eligibility for the short film category required at least a three-day run in a public theater and, ironically, it had to be projected on film. So the movie that was supposed to emulate film in an affordable medium was transferred back onto film at exorbitant cost. Ah, the good old days.
In November of 2000, Silent Story premiered at the Silent Movie Theater – where the film's composer, Michael D. Mortilla, was the regular pianist – to three (almost) sold-out crowds on three fabulous nights. And although it got several Academy screenings, it did not win an Oscar… until eleven years later when The Artist took home Best Picture. Once again, we were just too far ahead of our time. Or something. Maybe it was political.
Enjoy Silent Story below, along with a collection of excellent BTS photos, shot on real film!
*Spelled it right this time!
---