We've spent the last month (although, what is "time" anymore, really?) digging back as far as 1991 to reflect on the history of Drama 3/4, but today we only have to dig, like, a small, uh… like, scrape off the top layer. This is not a useful metaphor. What we're saying is, Fortune Rookie came out just two years ago (which is basically yesterday) and gave us an opportunity to work with some of the biggest comedy talents of our career to date, namely series creator Janet Varney (Stan Against Evil, You're the Worst, The Legend of Korra).
When you look at all the ways we've crossed paths with Janet, it seems we were destined to collaborate. Way before we had mutual friends in Chris Hardwick and The Thrilling Adventure Hour, Janet's father went to University of Arizona with David Fickas's parents. On top of that, we eventually found out that her high school prom date was none other than D34 regular and freestyle rapper Zach Selwyn! Later, D34's Brice Beckham went on Cole Stratton's podcast, so Drama 3/4 became a natural thought when Cole and co-founder Janet were looking to do promos for their San Francisco comedy festival, SF Sketchfest. We've taken several shows and short films to SF Sketchfest since then, as well as been responsible for seven annual promotional trailers. All of that is why, when Janet and co-writer Brandon R. Reynolds struck a deal with IFC to bring Fortune Rookie to life, Janet reached out to us to help her breach the veil to the spirit realm.
Fortune Rookie takes place in an alternate reality where "Janet Varney" (played by Janet Varney) has given up acting to find fame and fortunes in the fortune-telling trade. When we read the scripts, the cast list of all-star guests and cameos was astounding to behold… and also a potential nightmare for scheduling. It included heavy hitters like Scott Adsit, Steve Agee, Fred Armisen, Laraine Newman, Timothy Omundson, Gary Anthony Williams and a substantial arc for the very busy James Roday, to name just a few. Yet, against all odds, everyone made themselves available! In fact, the only scripted character who didn't make it into the show was the raccoon. Oh well, maybe for Season 2. (If there is one. This is not an announcement.)
Some standouts in the series include Janet's Stan Against Evil co-star, Deborah Baker Jr; Kara Morgan's animated Bigs & Tinies takeover, in an episode she co-directed (stay tuned to Drama 3/4 for more Kara Morgan news!); Jessica Makinson SLAYING in the role of "Jessica Makinson"; walk-on appearances from WorkJuice Player Mark Gagliardi, our own Brice Beckham, and of course, some strong Pam Cookness. For us though, one of the most special moments was getting to work with another USC School of Theatre alum and an incredibly talented, wonderful human being, Timothy Omundson. Tim had suffered a major stroke in 2017, only months before we asked him to join us for the season finale of Fortune Rookie. And although his official return to television came late last year with an arc on This Is Us, his first return to on-camera performance was when he was gracious enough to appear on our little digital show. We, like all of his fans, everywhere, had been eagerly awaiting the day Tim could go back to work. Being part of that monumental step on his road back to acting, watching him crack up Janet and Scott Adsit, was an experience that made everyone on the production feel extremely lucky and profoundly grateful.
The entire series is available on IFC.com and IFC's YouTube channel, or on our Drama 3/4 YouTube channel… but there's no need to travel that far, because we've gone ahead and gathered everything for you, right here: the Season 1 trailer, a playlist of all eight episodes of Fortune Rookie (about an hour in total), and TONIGHT'S LIVESTREAM Q&A with Janet! She's carved out some time in her seriously busy quarantine schedule of VO recording, podcasts and writing to come chat with us – and you – so click through to YouTube to send us your questions during the show! We're… sensing… you will have good health and financial security… and a hell of a good time if you join Janet Varney and director David Fickas, TONIGHT at 7PM Pacific. It's in the cards!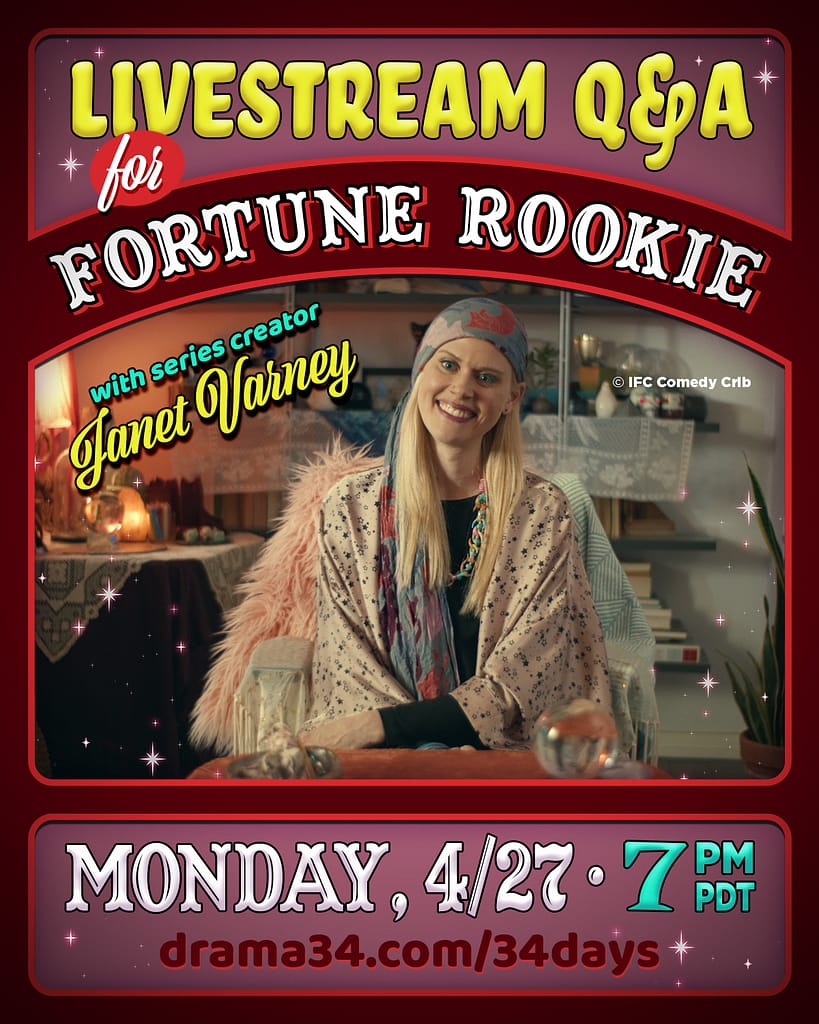 ---
We're collecting for the American Stroke Association (a division of the American Heart Association) in honor of Timothy Omundson! Please consider donating at gf.me/u/xy6ux8.
---