"It's March 23rd. Something bad is going to happen."
…Okay, it's really April 20th. But that's still a good opening line.
Until he graduated from USC, Drama 3/4 was just a name behind David Fickas's student stage productions and grade-saving short films. Afterward, however, Fickas began looking for a way to put his Theatre degree and Film minor to work. What started as an idea for a play became a script for an independent feature instead. And when the opportunity to actually make a movie presented itself, a coin toss ultimately decided between The Iceman Chronicles or… The Basement and the Kitchen. That's how, in the summer of 1997, a modest budget and a can-do attitude initiated Drama 3/4 Productions as a legitimate company, and put it on the road to shooting a feature on 35 mm film.
Written and directed by Fickas, starring himself along with Pam Cook, Ric Barbera, Luiggi Debiasse, Jeff Wiens, Terence Paul Winter and sketch veteran Mo Gaffney of "The Kathy and Mo Show," Basement was designed to be shot almost exclusively in only two rooms (you can probably guess which ones). Despite this, and even though principal photography was completed in just two weeks plus a few pickup days, Basement's crash-course in film production proved to be an arduous process that took almost two years to complete. It was a journey that resulted in brushes with future auteurs Darren Aronofsky, Rian Johnson and Christopher Nolan before finally arriving to an official premiere at the Seattle International Film Festival in June, 1999.
Two sold-out shows in Seattle led American Cinematheque to invite Basement to be one of its first screenings at the newly-renovated Egyptian Theatre in Hollywood. It went on to win an award at the Santa Monica Film Festival and got Fickas recognized as a Top-20 "Filmmaker to Watch" by Filmmaker Magazine. However, it wasn't until years later, in 2005, that Basement saw any kind of distribution. Still, a small home video deal and a new title (Angels & Aliens: The Basement and the Kitchen) was enough to dust off the film and get it polished up for DVD. Using vastly-improved digital technologies, Drama 3/4 could now redo and enhance some visual effects at almost no cost, and master an HD-quality transfer from the original film negative. It is that version which we are proud to present to you now.
In the era it was made, most of the industry couldn't fathom what "shelf" a science-fiction/comedy/thriller like Basement should go on. Well, movies don't go on shelves anymore, and the hybrid nature of the film – and our company – has become a much more attractive trait. Once upon a time, at some festival panel, Fickas heard a distributor say, "You'd better love your film, because it will be with you for the rest of your life." 23 years after the start of principal photography, there's nothing we'd love more than for you to see The Basement and the Kitchen one more time.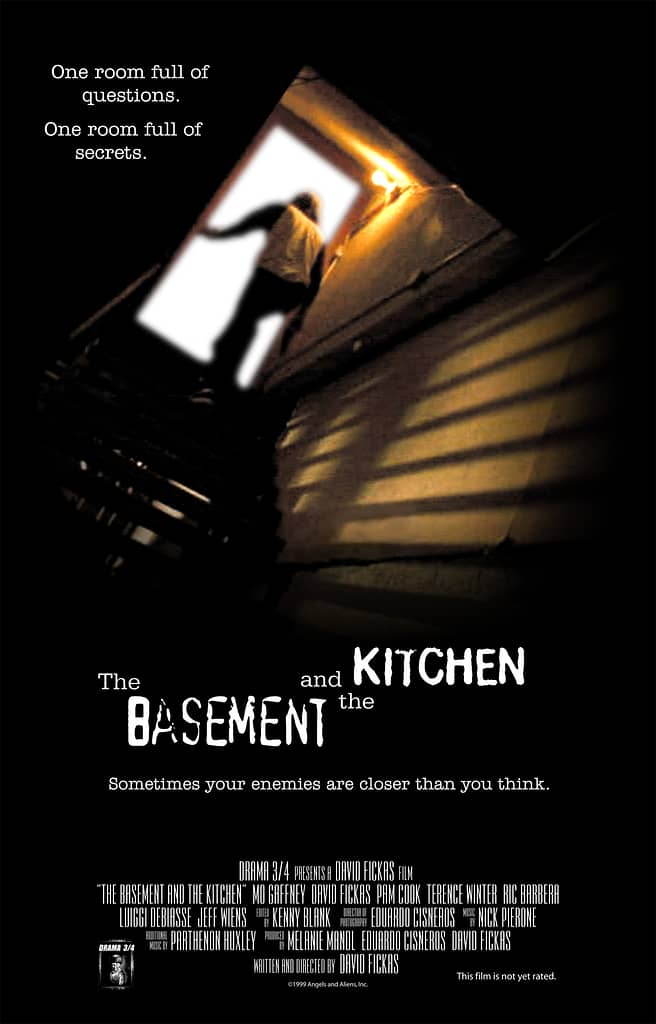 ---
Although we were not able to watch the film along with the audience, please enjoy our livestream introduction and reminiscences with the cast, after which we invite you to watch all of The Basement and the Kitchen posted below. Then be sure to hit us up on social media to tell us what you think!
---
BONUS FEATURETTE! We've got a supercut of DVD extras, including scene comparisons from rehearsal to screen, outtakes, Q&A at the Egyptian Theatre and Lloyd's Video Journals!