There's nothing like a live D34 event. The stage, the crowd, the afterparty… the celebration of an artistic community, sharing their art and having a great time doing it. That's exactly why we started Offline Movie Night, to get people away from their devices and out of their homes to watch some great short films on the big screen, in a packed theater, shoulder to shoulder with a warm audience.
At this moment, that sounds terrifying.
Therefore, Offline Movie Night is going back ONLINE to put the "quorum" back in "quaramtine" bring the festival screening to YOU! It's the livestream version, hosted by Fickas & Beckham and featuring a little D34, some D34-adjacent, and some D34-approved shorts! The lineup includes films by Charles (Chuck Armstrong and Charlie Stockman), Franco & Billy (Peter Blomquist and Jeff Wiens), Michael Horowitz, Colin Lynch, Natalie & Tara and Jason C. Brown, Jordan Rader, Lia Richardson and Sean Hamrin, Smith & Lee, Liam Sullivan, and of course Drama 3/4.
P.S. It was a fun show! We went dark a couple times due to the bots flagging some of the videos, but that's all been worked out, and the dead air has been removed. Links to most of the films – including the ones that got cut out – are available below!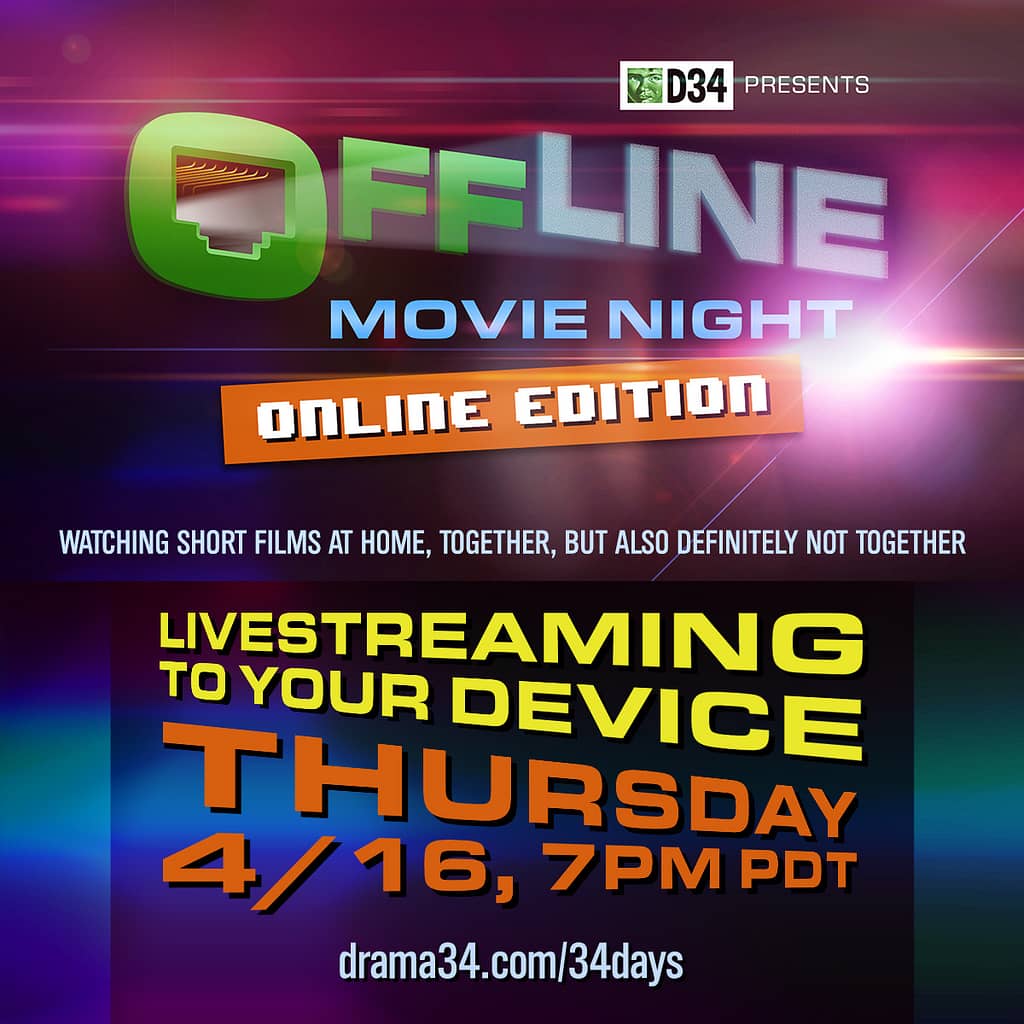 ---
You can help the artists and see these films in top quality by going to watch them where they normally live, at the following links:
Locks of Gold – by Drama 3/4
Don Dimmel, "California Dreamin'" – by Colin Lynch aka Flozzlsnoff
Possum Death Spree – by Michael Horowitz & Gareth Smith
Part 1 – Part 2 – Part 3
Dirty Scrabble – by Liam Kyle Sullivan
Quarantine Chronicles – by Lia Richardson & Sean Hamrin
Stickbone12 – by Drama 3/4
Dead Ted – by Rader Film
Panic Button – by Natalie Lynch & Tara Jayn, directed by Jason C. Brown
Powerline Dance – To Be Free – by Smith & Lee (Gareth Smith & Jenny Lee)
Bob Tulap – Capricorn RVs – by Drama 3/4 and Liam Kyle Sullivan
Find more Bob Tulap on Day 3 of our 34 Days
One For The Books – by Franco & Billy (Peter Blomquist & Jeff Wiens)
Jaguar – by Charles (Chuck Armstrong & Charlie Stockman)
The Hopefuls: Olympic Hopefuls – by Drama 3/4